Note: Our Products Can Be Customized According To Customers' Needs. In Addition To National Standards,We Can Design And Manufacture According To American Standards, Japanese Standards, German Standards, Russian Standards, British Standards And So On.
Brief introduction of spring safety valve with wrench (A47H, A47Y)
A47H, A47Y spring safety valve with spanner is suitable for equipment or pipelines with steam, air and other media whose working temperature is ≤350℃. As an overpressure protection device. The connection flange standard is in accordance with JB/T-94 series 1. A47H, A47Y with wrench spring micro-opening safety valve product series: A47H-16C, A47H-25, A47H-40, A47Y-64, A47H-64, A47Y-100, A47H-100 A47H, A47Y with wrench spring micro-opening Type safety valve.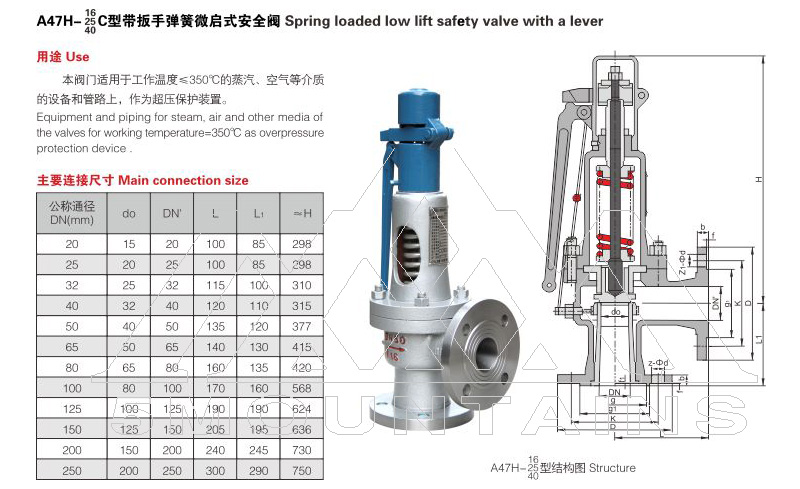 Explanation of materials for main parts

NO.
Name of part
Materials
1
Body
WCB
2
Valve seat Nozzle
ZG2Cr13
3
Adjusting ring
ZG2Cr13
4
Disc
2Cr13
5
Guide sleeve
2Cr13
6
Bonnet
ZG230-450
7
Spring
50CrVA
8
Stem
2Cr13
9
Wrench Lever
ZG200-400
10
Adjusting bolt

45
11
Protective cover Cap

ZG200-400


Sealing surface of material
"H" type depositing D507, "Y" type depositing Co-based hard alloy
"H" type Depositing D507, "Y" type Depositing stellite

Product Keyword Tags>>
spring loaded low lift safety valve with lever,spring loaded low lift safety valve with lever manufacturer,spring loaded low lift safety valve with lever manufacturers in china